NRAI Town Hall Meeting, May 6th 2020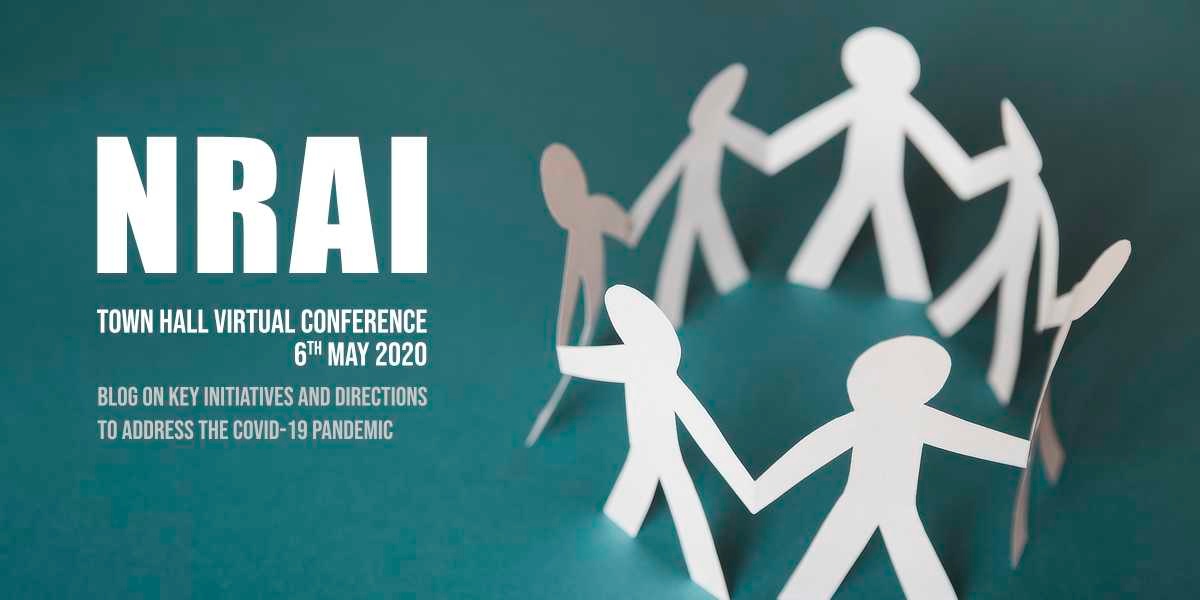 What happens when an industry which generates over ₹4 lakhs crores (2018-2019) employing over 70 lakhs employees comes to a grinding halt due to the COVID-19 pandemic? The losses alone for April 2020 was a staggering ₹35,000 crores and it is anybody's guess when normalcy will be restored in the industry.
The NRAI - National Restaurants' Association of India held a virtual town hall meeting via Zoom conference which went live on Facebook addressing key issues for the F&B Industry. The meeting was chaired by NRAI leaders comprising Anurag Katriar - President NRAI, Rahul Singh, Riyaaz Amlani, Gauri Devidayal, Zorawar Kalra, and Thomas Fenn.
Key Focus Areas of NRAI
The NRAI focused on short-term, mid-term, and long-term initiatives that would help the F&B industry to address issues such as profitability, increase opportunities, increase capital and bring in governmental changes that would help ease operations during a post-COVID world.
The NRAI's focus during the town hall meeting was to ensure the survivability and sustainability of the F&B Industry. Undoubtedly COVID-19 pandemic has caught the world by surprise. Nobody could have ever imagined the impact of COVID-19 in its totality and, how it has brought the world to a complete standstill with more than 4 billion of the world's population in some kind of isolation. It is just not a matter of economy but the tremendous impact on its 7 million workforces as their livelihoods have been impacted suddenly. The NRAI is currently working on a wide range of measures including representation to the governments to mitigate the current situation and increase opportunities, ease of business in the long term. Here are some of the initiatives and advice by the NRAI team.
Premises Rentals & Force Majeure Clauses
Those restaurateurs rental contracts have a Force Majeure clause should be able to use this clause and this can be a huge relief. Restaurant rents can be upto 20% of the total expenses and most of the industry runs on very tight cash flow. Even minor disruptions in cash flow are difficult to manage.
It is, therefore, important for F&B businesses to avail of this clause. Anurag Katriyar, Rahul Singh, and Riyaaz Amlani highlighted the importance of coming to a mutual agreement with landlords for those who do not have a Force Majeure clause in the contract. They stressed the importance of arriving at amicable agreements rather than involving lawyers. The NRAI has made a representation to the government to give the COVID-19 as a Force Majeure status lest there is no ambiguity.
Managing Employees Benefits so that they are taken care of
The NRAI has focused on key initiatives including reaching out to governments and authorities to ease the pain of employees due to the COVID-19 lockdown and loss of income. These include a range of measures like ESIC releasing pay cover due to loss of income, increasing PF withdrawals, etc. This was presented by Rahul Singh
representations to the govt for F&B Employee benefits
The NRAI has made representations to the government which can provide succour to the employees during these difficult times with the following recommendations:
ESIC Unemployment Pay Cover - The Employees' State Insurance Corporation (ESIC) can provide unemployment cover to employees who have lost their jobs. Contribution to ESIC is mandatory and most restaurateurs have contributed to it so that this provides insurance to compensate for lack of income. The NRAI has recommended to the ESIC that employees should be able to avail of this insurance. This can alleviate the financial pains of employees.
Supply Of Essentials to Marginal Employees - This is a recommendation made to the government for the class of employees who are at greater risk due to lack of employment. These employees for the F&B industry should be provided with essentials through the direct distribution system so that the essential needs of these employees are met.
Extend EPF Benefits - The NRAI recommendation is to extend EPF contribution schemes and to extend the withdrawal limit to six months salary from the current limit of 3 months.
Extend Moratorium on Loans - The NRAI has sought the extension of the moratorium of employee loans from three months to six months.
More Cash in Hand and better cash flow for F&B industry
The F&B industry needs to get back on its feet quickly and here is a range of recommendations and actions including waiver of renewal of fees, lower interest rates, tax holidays, and more.
The NRAI's recommendations for improved operational efficiencies is to bring in sops that would help the F&B industry to save cash during troubled times and have better cash flow efficiency. Here are the recommendations:
Waivers on Fees for Permits - The NRAI strongly recommends that waivers on renewal fees on licenses, registrations & permits including adjustment for fees already paid for the next few years.
Working Capital at Lower Rates - Interest rates are a huge burden on restaurateurs and are a barrier in investing. The NRAI recommends that the RBI brings down the interest rates specifically for the F&B industry.
Deferment of all Statutory Dues - All statutory dues should be deferred as this will free up cash availability and give the restaurateurs some breathing space.
Concessions in Utility Billing - The F&B industry's utility bills are huge and the NRAI recommends that the government works out reductions in utility bills for the F&B industry.
Direct Tax Holidays - Should be given to the F&B industry just like new industries are offered as sops.
changes in strategic policies for F&b businesses
Many policies pertaining to the F&B industry are detrimental to its health and need to be changed - Input tax benefit on GST, fair e-commerce policies and others which can bring in more investments and growth potential
Rahul Singh highlighted the importance of changes in policies that will improve the atmosphere in the F&B industry and provide it with better long-term growth opportunities. Here are some of the recommendations:
Input Tax Benefits for F&B Industry - This was one of the harshest policies where the F&B industry was singled out when input tax benefits were revoked for the entire industry. It is unfair and has hurt the industry significantly over the last two years. In the post-COVID-19 world, it is absolutely important that input tax benefits are restored.
Fair E-commerce Policy - The F&B industry started the #LogOut movement last year as aggregators' discounting schemes and high rates of commissions were hurting the industry. A framework needs to be put in place so that aggregators and the F&B industry can be in a mutually beneficial relationship.
PMKSY Framework for F&B Industry - The NRAI recommends an initiative based on the PMKSY framework as these could create more opportunities in mega restaurant hubs and parks. These could be on an easy rental and profit-sharing model.
Infusion of Capital - The NRAI recommends the abolishing of Angel Taxes to encourage domestic investment in this sector.
Feed the needy - initiative by NRAI
The R4R initiative presented by NRAI was about the efforts taken by NRAI through the Feed The Needy campaign which plans to feed over 10 million people during the lockdown in Mumbai, Delhi NCR, Kolkata, and Bangalore. So far, this initiative has fed over 5.5 million.
gamechanger - alternative to aggregators
The NRAI is working on a major initiative for providing a platform that will provide far more profitability, control, reduce costs and increase operational efficiency. This initiative will be a gamechanger and the highlights were provided by Thomas Fenn
Restaurateurs have been dismayed with the high rates of commissions and the lack of transparency in data sharing by the aggregators. As the aggregators do not share data, restaurateurs are unable to use this to increase loyalty and business. While the aggregators continue to use this data to drive their own business, restaurateurs are left without any control.
NRAI's initiative is to bring in a plug-n-play application that will be created for restaurateurs. Just like Infosys runs the UID program and TCS runs the Passport E-Seva portals, NRAI is in discussion with vendors to implement a similar model. Thomas used the term Digital Landlord to describe the aggregators as they do not provide access to customer data.
This initiative is to break the current monopoly and hand control back to restaurateurs for higher profits, lower costs, and improved efficiency. The plan is to have a simple form for restaurateurs to sign up which will provide an easily integrated backend with access to data and choice of delivery partners.
We will provide more information on this in a separate blog.
Conclusion - apna time ayega
Riyaaz summed up the town hall virtual meeting with "Apna time ayega". These are great initiatives and the NRAI stays committed to pushing for reforms for the F&B industry. While there is no clarity in terms of when the industry will get back to normalcy, these initiatives and help from the government will go a long way in ensuring the sustainability of the industry