How a New Pub Created Epic Sales in December 2019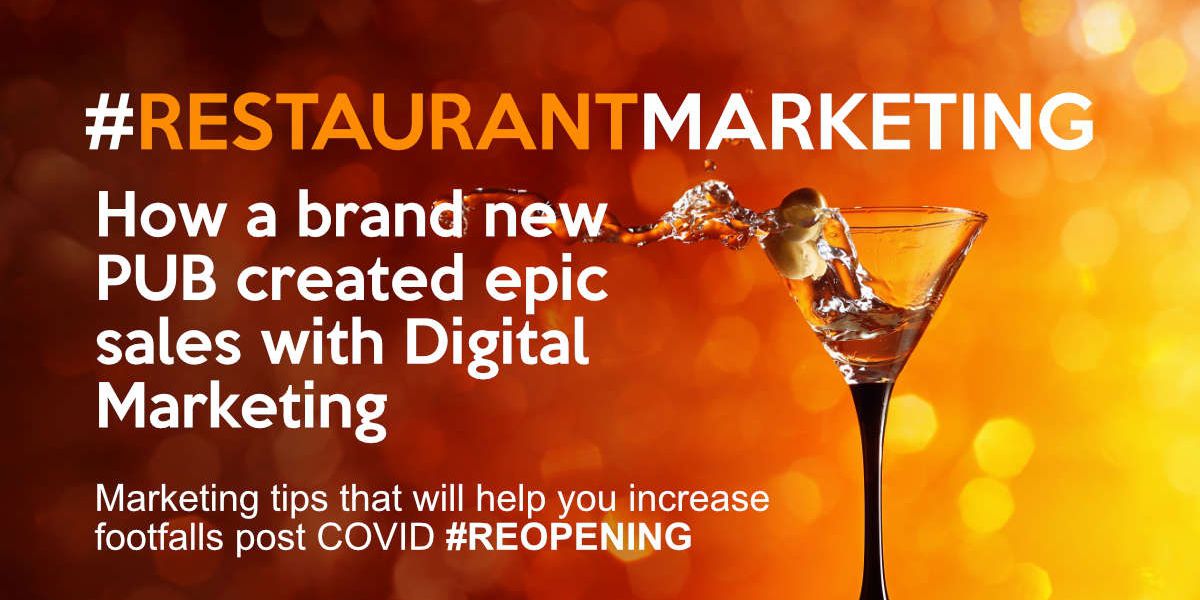 In this story, we celebrate the success of Fat Owl's amazingly successful December 2019 just four months after its launch in a very competitive location in Bangalore. The Fat Owl, a gastropub, launched in late July 2019 with a focus on attracting discerning customers with its beautifully appointed interiors with a sprawling mango tree inside the pub, three levels of seating with an amazing rooftop terrace seating.
How to make a Brand new pub successful for December peak period
Bangalore's JP Nagar had become a popular destination and a large number of pubs, microbreweries, bars and nightclubs had opened up in a span of a few months. We wanted to focus on creatives that would create a high level of excitement which would reach a crescendo for the peak period of the hospitality industry - New Year's Eve 2020.
Our biggest challenge was how to ensure a super success for a brand new pub in a highly competitive neighbourhood. We took up the challenge!
Driving a result-driven exciting marketing campaign for fat Owl
We wanted to create a build up to the excitement right from the beginning of December 2019 which would peak in December end and maximize the sales for New Year Even 2020, Christmas Eve, Christmas and the holiday season.
We divided our strategy into three parts to create excitement, awareness and amplify the brand so that the target audience for Fat Owl could be reached and grab its attentions and turn them into customers. This was not going to be easy given that every nightclub, microbrewery, pub and bar were going out with all guns blazing. The market was large but the competition was fierce.
The team worked hard at brainstorming a strategy which would deliver results with a very high return on investment.
Let's be different with the graphics design
We realized that the entire hospitality industry would be churning out the same kind of creatives, so we strapped in and started working on giving a totally different twist to the visuals for Fat Owl, Notice, how the creatives, visuals, and graphics design look different. The graphics team mixed in old-world, nostalgia with understated sophistication. This would help the graphics rise above the din and clamour of others.
We deviated into dangerous territory as many in the hospitality industry wouldn't approve of such creatives. Fortunately, Fat Owl's brand guidelines were in sync with this and we adopted the same guidelines without any deviation. We brought together grunge, retro, nostalgia, muted aristocracy, subtle sophistication which grabbed the attention of the targetted audience and stuck to their minds
Sure enough, this worked beautifully when the Fat Owl management told us that the New Year eve passes were actually shared on Instagram by their customers. What better feedback could we have received. The entire graphics design team was super thrilled!
Let's use the multiplier effect of digital marketing
Can you imagine how difficult it would be to ride a bicycle with only one wheel? It is no different for marketing and, even more so, for restaurant marketing. Our experience always has been that businesses get better results when the optimal number of platforms are used.
We made the website the central point of our marketing campaigns while we worked on Facebook, Instagram and Google Business to increase our reach to create awareness. We created a pathway from social media posts to the Fat Owl website which would provide detailed information so that the visitors could then proceed to buy/book their tickets.
We also created SEO optimized web pages for Christmas and NYE 2020 and optimized for local geo-targeting. This would ensure that it would show up on Google local searches for key words like "pub near me", "NYE party", "Christmas dinner" etc.
Using Smarter paid marketing - SEM and SMM
We had already envisaged the importance of the website in the marketing strategy for Fat Owl and had bet on Google's search engine marketing to play a very important role. We used Instagram and Facebook marketing to create awareness as well as drive traffic to the website. We used highly precise, detailed and focused targeting to make sure that we get the maximum reach with a very well-defined target audience. This would make sure that we get the highest reach with the highest conversions.
We also focused on ensuring a high click-through-rate (CTR) with clever, engaging titles and descriptions. The objective was not only to capture the attention of the target audience but also get him intrigued enough so that we would engage him with a Call-To-Action (CTA). We kept on changing the headlines, titles and descriptions to see what worked best.
We also kept a very sharp eye on the bounce rates, CTR and the negative keywords. We achieved an average CTR of 16% which is considered to be really, really good. Google's responsive search ads were particularly useful too as it served up the best performing headlines and descriptions.
The hard work went into analytics so that we could continuously improve the performances of the organic and the paid campaigns. We focused on getting higher reach, more engagement with every post. We analyzed low-performing posts and identified elements which we would tweak and create high-performing posts.
The December Campaign Results and outcome for fat owl
We were on tenterhooks as Fat Owl was just 4 months old in the business and in the face of fierce competition in a highly crowded neighbourhood teeming with pubs, bars and microbreweries. The culminiation of all the efforts shaped up and Fat Owl had a spectacularly successful New Year Eve 2020 with a sold-out show despite Fat Owl's strictest policy for refusing entry to stags. The Bar Nights were hugely successful too even though it had started only a few weeks ago.
The pre-Christmas events were very successful too as were the Christmas Eve dinner and Christmas day lunch. This was one great experience which worked out so well for a customer.
Of course, as is customary, the team celebrated by dousing themselves with great craft beer in early January 2020!