Guide to Explosive Growth with Restaurant Content Marketing
Why Content Marketing matters - "Bad marketing is like a first date, if all you do is talk about yourself, then there won't be a second date"

Content is an incredibly powerful marketing tool that makes restaurant marketing go viral. It's easy, inexpensive, powerful, and will help your brand stand out. Restaurants, nightclubs, microbreweries, pubs, confectioneries have readily available amazing content which can be used for explosive marketing growth and jaw-dropping results.
This write up together all the elements of content marketing so that you can get deep insights on how and why this strategy will improve your marketing results.
What is content marketing for the food & restaurant industry?
Content Marketing is a powerful, strategic marketing approach that rises above the din of traditional marketing. The best part of Content Marketing is that it is not an overtly visible in-your-face marketing technique and is subtle, nuanced, and extremely effective. Actually, in simpler terms, it is just content that is created and shared to gain customers' attention and top-of-mind recall.
The food and restaurant industry has spectacular content like recipes, cocktails photos, live performances, bartenders, photos of attractive, happy customers, customer reviews, and plated dishes. All these can be used in myriad ways of creating powerful and emotional brand connect without even remotely appearing to "sell" anything. Sadly, these breathtaking and inspiring pieces of content are gathering dust and are rarely used.
Your current restaurant marketing strategy might be actually harming your brand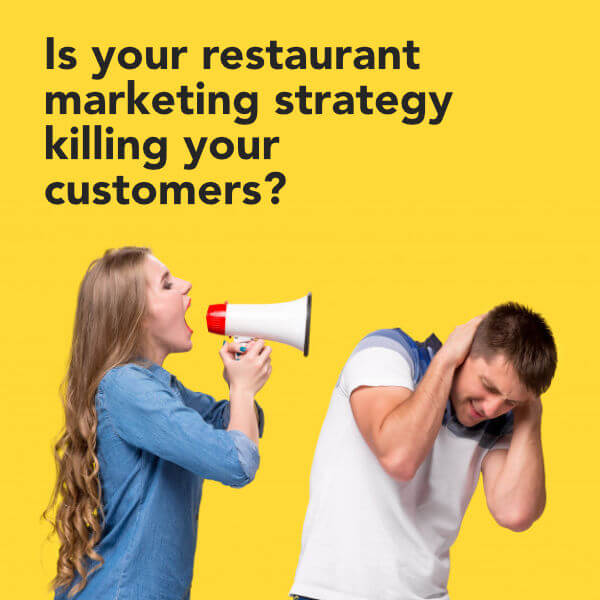 Think about how you are looking forward to a lazy morning, maybe reading a book, or pursuing a hobby. Suddenly, you get a call from your local restaurant informing you of a lavish buffet. That sounds interesting and you're thinking about going there. Minutes later the phone rings again and the excited caller tells you of a fabulous discount at a restaurant. This is followed by many more calls on a nightclub event, happy hours, buy-one-get-one-free offer, special offer for two, family offer ............. blah! blah! blah! blah!
Soon, you are getting pretty annoyed as you feel these calls infringing on your personal space. Worse, all the messages that you received have become blurred and it has confused you. You might even start blocking these callers.
This might sound like an exaggeration but just look around what you see on social media for the food industry - a constant bombardment of messages which look and sound almost similar. What is worse is that sophisticated algorithms actually reduce your visibility from your target audience.
Traditional marketing on digital platforms has become boring
Just look around you at Facebook and Instagram of pages and accounts by restaurants, pubs, bakeries, microbreweries, and other eateries. What do you see?
Aren't these messages almost the same? Aren't all the advertisements uncannily similar? Sure, you might argue that the creatives for some might be better than others but that is in itself a very small differentiation. Business owners in the F&B industry are focused more on making better creatives than actually developing a better marketing strategy.
With everyone in the restaurant business fighting for space on Digital Marketing platforms with virtually the same messaging, the target audience is losing interest in posts on social media.
Traditional marketing talks at people, Content Marketing talks with them
5 secrets - why content marketing works better

We have seen how traditional marketing has become too sales-oriented and gets lost in the cacophony on social media. Content marketing, on the other hand, is incredibly more powerful and delivers far more impressive results. Here are five solid, compelling and proven reasons why content marketing is fast becoming the cornerstone of restaurant marketing

Builds longer, stronger, deeper relationships - Great content helps your target audience identify with your brand and your products like no other form of marketing. For example, a recipe for your hottest selling cake/cocktail/dish/dessert is highly relevant to your target audience and is likely to be valued highly. As a result, the brand association is likely to be longer, stronger, and better with a much, much higher level of trust for your brand and products.
Increases engagement, shares, and Digital Propagation - Notice how quickly you share and like great content that you come across on social media and WhatsApp? Great content is much more likely to be shared and the engagement will be significantly higher. Similarly, great content is also likely to be shared more on Whatsapp with groups that can rapidly propagate your content and brand.
Search Engine Optimization (SEO) gets a boost - Google simply, loves great content Google's genesis has been to help users find the best and most relevant content. Google has complex algorithms that drive search engine rankings. All SEO experts are unanimous that great content is the biggest, most effective SEO tool in improving your rankings on search engines. Google is the biggest source of organic traffic that dramatically increases footfalls and revenue and great content will drive more organic search traffic to your business.
Your Target Audience is far more receptive - Do you have an experience of a cheerful salesperson peddling a too-good-to-be-true product and how you instinctively went on high alert? Somewhere, deep down, we have a defence mechanism that tries to shield us from a sales pitch. Sharing content is never a direct sales technique. You are sharing something with your target audience that it values a lot. This builds trust with them and they will be more open and receptive to other messages.
Has a longer shelf life - A recipe, a cooking technique, an experience were interesting 100 years ago and will continue to be of interest in the future. Your target audience will be as deeply interested in your Chicken Tikka Masala recipe today as it will be 100 years from now. The best part of content is that it can be shared over and over again and is very rewarding both to your marketing efforts and to your customers.
How to kickstart your content strategy like a ninja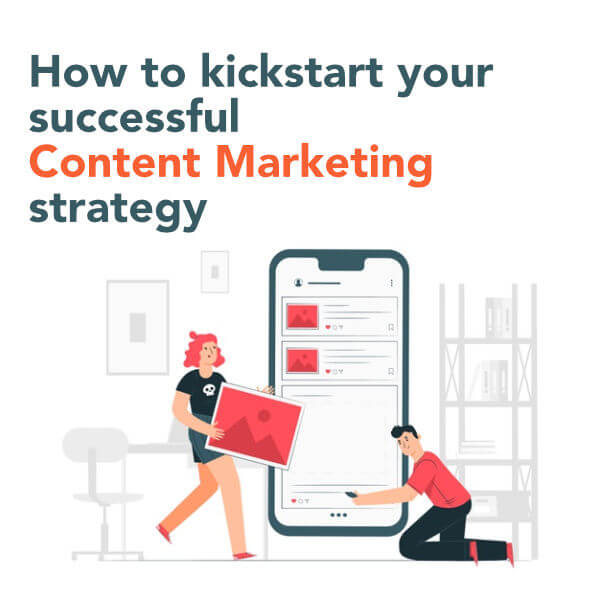 Now that we have explained why your content can dramatically improve your marketing results, let us show you how to work on a compelling content strategy.
Find your story, build it, amplify it
Every eatery has a uniqueness that customers identify with. For example, if you own a microbrewery, your goal would be to produce artisanal beers of the highest quality and your customers are the discerning craft-beer lot. Your target audience obviously loves craft beers. They also love the good life, eating out, and are very likely interested in fine dishes. A nightclub's target audience is the gregarious social type who loves the good life, wicked cocktails, hits the dance floor, and parties hard.
Or you own a cozy ice cream parlour which flaunts some of the zaniest flavours in the universe. Or yours could be simply a family-run eatery with some of the most incredibly delicious dishes known to man. There's a reason why your customers love you and support you. That's your story and your identity.
Find your identity and story and then build on that. Make sure that your story resonates with your customers and that will make your content that much more effective. Pull out all your photos, recipes, videos, essays that strengthens your story and use these content to amplify your brand.
Identify the platforms that work best for you
This is super-important as you must clearly identify which platforms your target audience is active on. Most youngsters are very active on Instagram. The older generations are more active on Facebook. Almost everyone searches on Google and, therefore, Google My Business is key. You could even explore LinkedIn if yours is in a commercial district.
Have a casual conversation with your customers and ask them which platform are they most active on. In my experience, a website is the center of your content universe. This is where you can host stories, reviews, videos, recipes, secrets, and anything that you believe is of value to your customers and you can easily produce.
select content that is of value to your customers
If yours is a nightclub then your customers would be interested in wicked cocktail recipes and would love to see themselves featured on your photo albums. If you are in the microbrewery business then insights from your brewmaster is of tremendous interest to your customers. If your confectionery has a bacon, brown sugar chocolate cake then it is perfect for foodies who love something different. If you have a flair bartender, take a video of that. The possibilities are endless but you need to make sure that you can create an enough quality content.
Make high-quality content
Delve deep. Don't skimp efforts if you want your content marketing to be successful. For instance, if you are writing a blog on how to host a party at home with amazing finger foods, make sure it is detailed, has catchy headlines, grammatically correct, is well-written, has recipes with illustrations, videos, and rich snippets of information. Excellent, unique content is more likely to succeed than mediocre ones.
use existing resources as much as possible
You will be surprised at the wealth of content that you have in-house. Your staff is sitting on a phenomenal stack of fabulous content. A simple photo of a happy bartender and his story can draw tons of interest. Your chef can reel off so many secrets from his recipe book. Your new amazing phone can capture brilliant photos of your dishes. Your pub manager can take photos of the live band's performance and post it on YouTube, Facebook, Instagram.
Make sure that the basic content is captured by your staff as this helps reduce expenses.
Super secret tip for low-cost content generation
Here's an amazing secret for you to create quality content without spending too much effort or your marketing budget - get your target audience to create content. The easiest that comes to mind is to run contests on recipe submission. Put up 5 popular dishes in which users have to prepare with the complete recipe and cooking process. This not only helps you create fabulous, unique content but also encourages participants to become your brand ambassadors and help you propagate faster.
Make your website the center of your content marketing
Remember. we said that Content Marketing has a long shelf-life? And, that's just one of the reasons why your content needs to have a comfortable home on your website. Google will love you and reward you with more traffic if your website has quality content. More customers will subscribe to notifications from your website because of your content. Drive traffic from social media and search engines to your website and create long-lasting relationships with your customers and influencers.
Is your website capable of handling dynamic content? Does it have social share buttons? Does it load fast? Does it follow SEO guidelines? Can you add more features? These are some of the questions that you would need to address with your website designer and marketing agency.
What is the best content marketing strategy for me?
As we mentioned, every brand has a unique story and each content marketing strategy will be different. You will need to identify a content-marketing strategy that fits your business needs and goals. It also has to be sustainable and consistent over a reasonable period of time (which is why user-generated content is so important).
The business owners have to commit themselves completely to this marketing strategy. You also need to be patient as SEO benefits will take time as will the growth in followers but it will be worth it.
A well-executed Content Marketing strategy can bring in enormous marketing benefits that current conventional marketing can never hope to match.